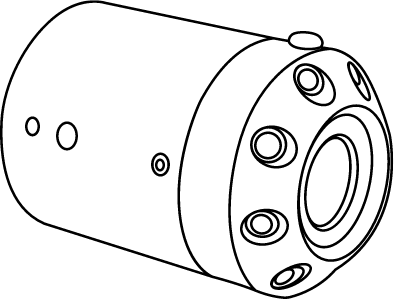 Standard Stainless Steel Cameras
Robust, Reliable,
Technology
GeoVISION™ Borehole Video Systems from Allegheny Instruments are customizable to any application, from 1-inch piezometer tubes to 10-foot diameter mine shafts. Manual or portable electric winch systems with up to 2,000 feet (600 meters) of cable to visually inspect any type of drill hole or boring into the earth – water wells, environmental monitoring wells, geotechnical borings, caisson foundations, drilled shafts, and shallow oil & gas wells.
Our stainless steel cameras are rated to 2,000 feet of submergence underwater (1,000 psi), with sapphire windows and built-in high intensity LEDs. We offer two options for controllable side-view imaging; the joystick-controlled motorized pan & tilt, and our Dual Scan Micro camera with both down-view and side-view cameras with rotational control. We offer multiple lighting options to optimize video quality under a variety of conditions. With recessed on-board LEDs and a slim diameter of only ¾-inches (20 mm), our NANO camera is ideal for inspecting water wells without removing the well pump, and for emergency tool fishing operations.
Customizable
Quick Turn Around
Whether you're ordering a camera, winch, light or a complete custom system, Allegheny Instruments is dedicated to getting your equipment to the jobsite when you need it.
Same Day Shipping
"Off The Shelf" orders placed before Noon Eastern Time typically ship the same day. Orders placed after Noon typically ship the next business day. With over 30 years in production, GeoVISIONTM borehole video systems have been shipped to over 100 countries.
Rapid Repairs
On the job, it's critical that your borehole cameras are always work ready — especially in emergency situations. Product failure costs time and money. In the unlikely event that your Allegheny Instruments equipment malfunctions you can count on an immediate response. Because we manufacture our products in-house, there's no wait for new parts. So, your equipment is fixed and back in the field quickly.
Customizable
At Allegheny Instruments, we're experts in nearly every application you'll encounter. We don't just manufacture the products, we offer fully customizable system solutions built for your project's requirements. In fact, you can start building your custom system right here.